The study of literature is an opportunity for students to not only improve their comprehension skills but also to practice thinking critically while exploring the issues and themes embedded in a piece of writing. Through the intentional analysis of literature, our students become better thinkers who are able to support claims and analyze complex issues. These are skills core to a successful society. The templates in this collection will find a familiar home with literature teachers, and with thoughtful application, many may also be applied to articles and historical writing in other content areas.
At AVID Open Access, we've created several templates to help you get started with some of the most common literature-based analysis tasks. These templates may be completed digitally or printed and completed offline. A benefit of choosing to use these digitally is that multimedia (images, videos, links) can be added quite easily. The digital versions of the templates also have placeholders for text and images where appropriate. If you find a Google version that you like, click the "Use Template" button to generate your own version that can be edited and shared as needed. You may also download a PowerPoint version if you are a Microsoft user.
Templates from AVID Open Access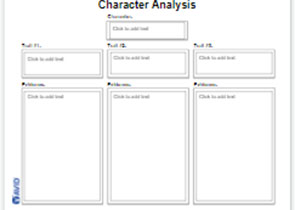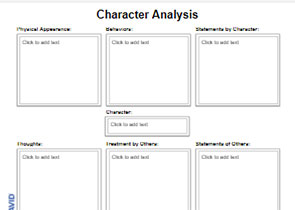 Online Digital Tools to Use for Literature Analysis
The templates in this collection may be completed individually or as group work. They may be completed after reading a selection or during the reading process. They may be most effective during a second read or post-read analysis. However you choose to use them, these templates provide structure for the analysis of literature. They also provide an excellent starting point for conversation and debate about a specific piece of writing, as they help students organize and defend their ideas in a thoughtful format.