It's important to engage learners at the beginning of a lesson. Part of this engagement is capturing interest. Another part involves activating prior learning, so they can make connections to new content and concepts. This opening activity should then be used to connect students to the learning target for the day.
At AVID Open Access, we've created several templates to help you launch new learning. These may be completed digitally or printed to complete offline. If you find a Google version that you like, click the "Use Template" button to generate your own version that can be edited and shared as needed. You may also download a PowerPoint version if you are a Microsoft user.
Templates from AVID Open Access
Launch Learning
Use these premade templates at the start of a lesson to engage students in new concepts and launch new learning in your classroom.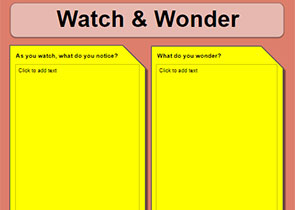 Online Digital Tools to Use for Launch Learning
Use these templates and activities to begin a new lesson or unit. For the KWL and KWLS, these can be completed before any formal instruction or presentation. They allow students to collect and share what they already know, which sets a foundation for them to create relationships between new and prior knowledge. The Watch and Wonder template requires students to watch a video or demonstration that catches student interest and introduces new content. Similarly, for the Look and Wonder template, add two interesting and related pictures to prompt student thinking. In each case, this activity becomes an igniter event to stimulate student thoughts, questions, and wonderings.